2018-01-02 Version (and Linux Build)
---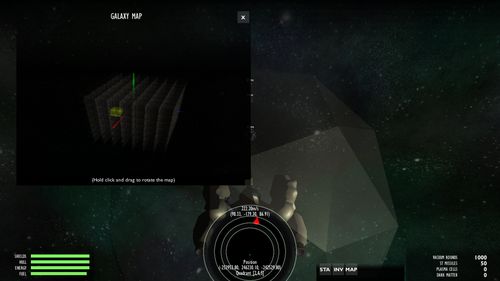 Update: 2018-01-02 version is out. Wit this, comes the following updates, along with a bunch of fixes and small unnoticeable touch-ups I guess.
Move between galaxy quads.
Galaxy map.
There is now a Linux build up too.
Right now most galaxy quads are pretty barren (I used a dummy one just for testing). But having that enables the option to make the world bigger. Now what's left in terms of moving through space is adding the option of more galaxies. You know, that greenish space isn't the only one you'll see. You'll not see more than, say, 10, since I can't produce so much content, but yeah.
So next step (in that regard) would be moving between galaxies, which would be done through hyperspace travel only, and adding then the Universe Map. But I'll first devote myself to adding other spacecrafts to the scene so it stops looking so barren. Then the shops and facilities to the space stations.
Also the galaxy loops so you can get from one end to the other more easily. If you go all the way to the front, you end up at the back.
I'll get the next update up in around 3-4 days at least, then start doing regular updates weekly or so. I don't want to over update.
Thanks for reading!
Files
DarkestNebula.app.zip
94 MB
Jan 03, 2018
DarkestNebula_Linux.zip
94 MB
Jan 03, 2018